with 'Sing Out Music Gospel Choir'
After the great success of Sing Out Music Gospel Choirs debut Christmas Concert at the Brindley theatre in 2019 WERE BACK 18TH DECEMBER 2022 with a fantastic stage production of a Motown Christmas Gospel Concert.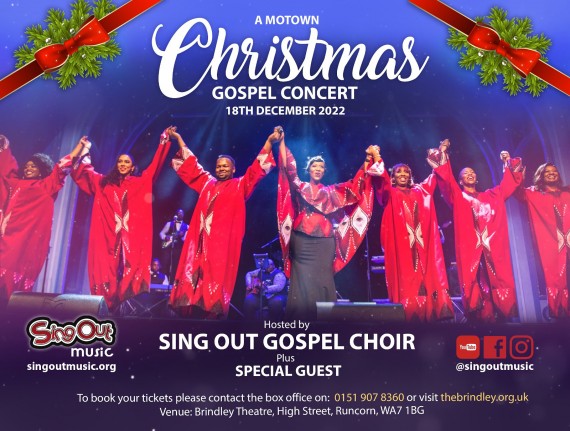 Sing Out Gospel Choir will take you on a journey of your festive favourite accompanied by some classic Motown hits with their added gospel arrangements that will warm your heart, put a spring in your step and leave you with a desire for more.
The choir is directed by Chan Evans who founded Sing Out Music in 2007 and is passionate about bringing people together and sharing Gods love through music. Sing Out Gospel Choir are very popular across the North West and have performed at numerous weddings, corporate and private events. The choir host an afternoon of live music while you dine called Gospel Sunday's in the heart of Chester.
BE SURE TO BOOK YOU TICKETS FOR THE NEXT SHOW!
CLICK LINK BELOW FOR TICKETS
https://tickets.thebrindley.org.uk/en-GB/shows/sing%20out%20gospel%20choir/events
BOOK YOUR TICKET TODAY email: thebrindley@halton.gov.uk or call: 0151 907 8360