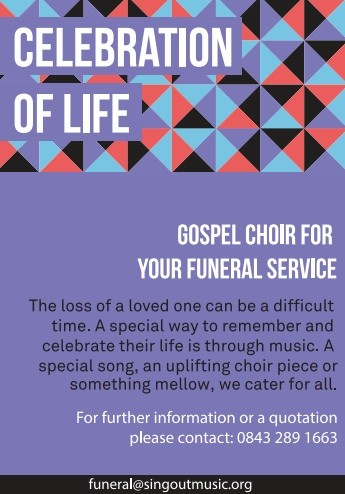 The loss of a loved one can be a difficult time. A special way to remember and celebrate their life is through music. A special song, an uplifting choir piece or something mellow. We cater for all.
When you're planning a funeral service to celebrate the life of a loved one, it is a final tribute that will be remembered for a long time. A great way of doing this is with a gospel choir.

The soul-stirring sounds of a gospel choir can be an unforgettable addition to the program for any funeral service.
The Gospel Choir Services
* Pre-Ceremony songs
* Ceremony entrance / exit song
* Praise & Worship
* Hymns
* Special request song
* Songs at the graveside

You also have the option of the gospel choir to provide music at your loved ones final resting place.
For further information or a quotation please contact: 0161 915 2670 or email: funeral@singoutmusic.org